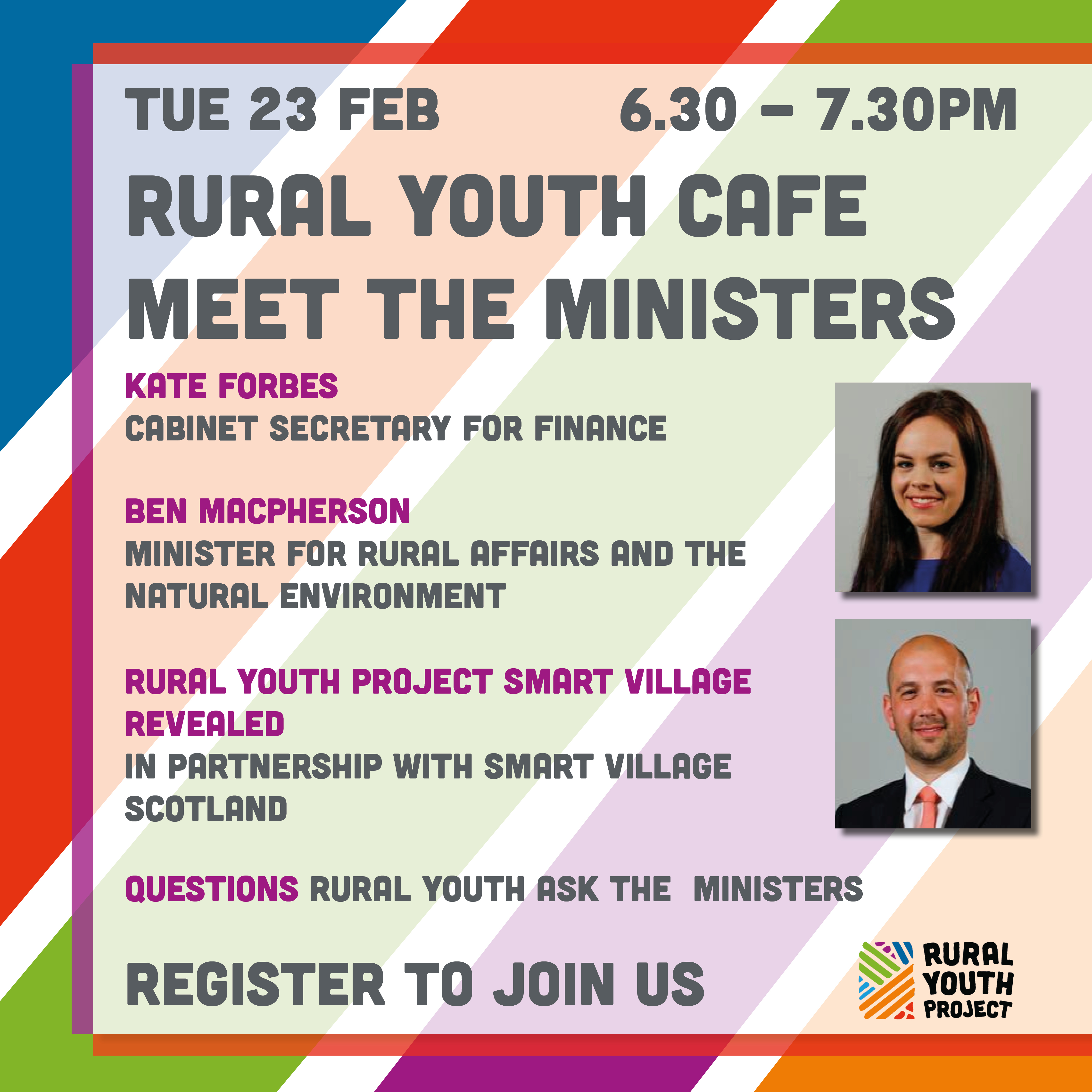 The next Rural Youth Project Ideas Cafe will welcome Cabinet Secretary for Finance Kate Forbes and Minister for Rural Affairs and the Natural Environment Ben Macpherson who will share their journeys into government and how they are supporting rural communities.
This is a fantastic opportunity to raise the issues that affect you living and working in a rural area and we strongly encourage ANY young person to submit a question via the registration page.
During the Ideas Cafe, attendees will be the first to experience the Rural Youth Project Smart Village, developed in partnership with Smart Village Scotland.
Date: Tuesday 23 February
Time: 6:30pm - 7:30pm
Where: Zoom
SPEAKER BIOS
Kate Forbes, Cabinet Secretary for Finance
Kate is from Dingwall, although has spent part of her upbringing in Glasgow and India. Until she was elected as MSP for Skye, Lochaber and Badenoch, Kate was employed as an accountant in the banking industry. Prior to that she studied History at the Universities of Cambridge and Edinburgh with a focus on human migration.
As a backbencher, she has served on the Scottish Parliament's Environment, Climate Change and Land Reform Committee, the Standards, Procedures and Public Appointments Committee, the Health and Sport Committee and the Rural Economy and Connectivity Committee. She also served as Parliamentary Liaison Officer for Finance and the Constitution.
As well as leading a campaign to ban plastic straws, Kate has participated in several cross party groups at Holyrood including Crofting, Gaelic, Human Trafficking, Palliative Care and Rural Policy. A fluent Gaelic speaker, Kate made history earlier this year by becoming the first female MSP to give a plenary speech entirely in Gaelic in the current Scottish Parliament chamber.
Ben Macpherson, Minister for Rural Affairs and the Natural Environment
Ben grew up in Edinburgh before studying a BA Honours degree in Philosophy and Politics at the University of York. After graduating he returned to Edinburgh and worked in a number of different roles before going on to complete a postgraduate LLB and a Diploma in Legal Practice at the University of Edinburgh. He then qualified as a solicitor and practised as a lawyer with one of Scotland's large commercial firms. As well as his legal training, Ben has worked in financial services, for an NGO, in renewable energy, in a school and in hospitality.
Throughout his career, Ben has been a committed political activist. In 2016 this culminated in being elected as the MSP for the Edinburgh Northern and Leith constituency, where he lives.
As a backbencher, Ben has previously served on the Scottish Parliament's Social Security Committee, Justice Committee and Sub-Committee on Policing. He was also a Parliamentary Liaison Officer to the First Minster between 2016-2018. In June 2018 he was appointed as Minister for Europe, Migration and International Development in the Scottish Government, before moving in February 2020 to his current role as Minister for Public Finance and Migration.
He is a committed internationalist and passionate about social justice and sustainable, inclusive economic progress. Beyond working and campaigning, Ben likes running, football and watching films and documentaries.
Rural Youth Project Smart Village
This "world-first" youth-centric Smart Village, developed in partnership with Smart Village Scotland and the Rural Youth Project Digital Champions, and funded by LEADER*, provides a platform for young people to collaboratively build vibrant, creative, and sustainable rural economies in the places they call home.
You will find out what the platform offers, how you can get involved and why the Rural Youth Project Smart Village is the biggest news for rural this year!

*The Rural Youth Project is funded by the LEADER Programme 2014-2020: The European Agricultural Fund for Rural Development: Europe investing in rural areas from August 2019 to March 2021. The cooperation project, which includes the Rural Youth Project Smart Village is supported by five areas – Angus, Lanarkshire, Outer Hebrides, Rural Perth and Kinross and the Scottish Borders.