Food Punks feature on award winning Rural Youth Podcast
28 May 2020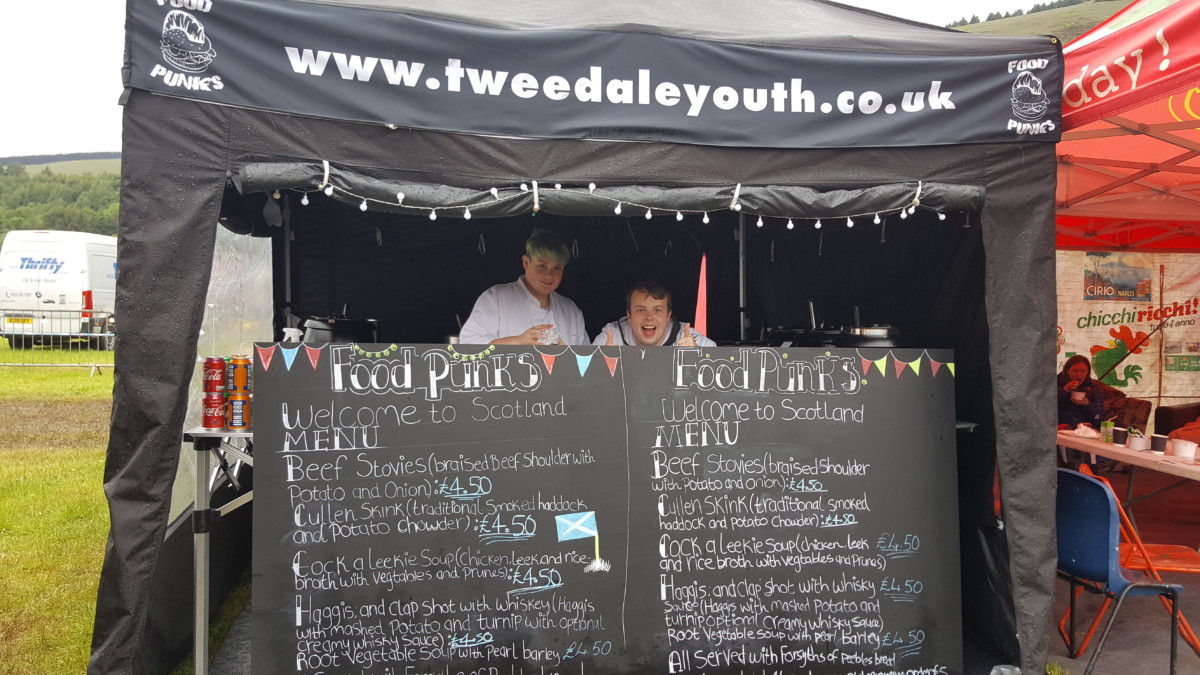 In the latest episode from the award-winning Rural Youth Podcast, interviewer Alana Black speaks to Tweeddale Youth Action Manager and occasional Head Chef of Food Punks Dave Hodson about the social enterprise and the importance of young people connecting in the kitchen.
Based in the Scottish Borders, Food Punks is one of Tweeddale Youth Action's income generating social enterprises and was established in 2015 by Dave Hodson. Food Punks started as an initiative to teach simple cookery skills that would help young people learn how to cook local fresh food from scratch and lead lower carbon lifestyles. With a background as a chef, Dave started utilising his skills in the kitchen to positively impact the lives of young people in the Borders.
In the podcast, Dave tells Alana: "During my catering career running kitchens it taught me responsibility, discipline and it was an education in itself. Throughout my time as a chef, I was interested in recruiting young people who perhaps had interesting lives and I really loved that.
"Not long after I started with Tweeddale Youth Action, I started doing some cooking session with kids which is a great way to break down barriers – everyone loves to eat! – and it's about change, development and growth. "I ended up starting my own outside catering business and I included a couple of the young people from the project in this and we did a couple of high-profile events in Glasgow."
During the coronavirus pandemic, Food Punks has had to adapt their offering to support rural young people in the Scottish Borders.
"Food remains a very strong theme, but pretty much all of our catering bookings have had to be postponed, so we've moved to an online model. Every Friday afternoon at 2:00pm we do baking and cooking on Zoom.
"We started off with about 10 to 12 young ones joining, but now we're in the mid 30's. We weigh and bag up ingredients, distribute them out to the youth with a recipe and any kind of equipment and kit that they might need and then they join us on the call. It's been fantastic and the energy is really high. We're bringing people together and it's something we're going to continue post-lockdown – it's a great way of reaching the young ones who don't usually come into our space.
"Big thanks must go to the Food Punks brigade who work so hard and who have been so committed to growing the project and moving it forward - it really wouldn't happen without the young people involved."
The podcast, which can be found on apple podcasts, SoundCloud, and Spotify, was established as part of the Rural Youth Project. The Rural Youth Project is an international grassroots movement for positive change to empower young people (18 to 28 years of age) to develop their leadership, enterprise & activism skills, to play an integral part in making rural places attractive and viable for young people to build their lives and their futures there.
Food Punks and the Rural Youth Project are collaborating on a series of workshops held over three weeks to expand young peoples' skills, broaden their network, and fuel their minds and bodies during lockdown. Held in June/July on Zoom, young people can register their interest to attend here.
The Rural Youth Project is funded as a cooperation project by five LEADER Local Action Groups (LAGs); Scottish Borders, Angus, Lanarkshire, Outer Hebrides, and Rural Perth and Kinross, who are supporting the project in the next phase of a longer-term programme to reach out to all areas of Scotland and enable all young people to participate and become the next generation of rural leaders. The Rural Youth Project is supported by the LEADER Programme 2014-2020: The European Agricultural Fund for Rural Development: Europe investing in rural areas.