No one wants a race to the bottom
12 August 2019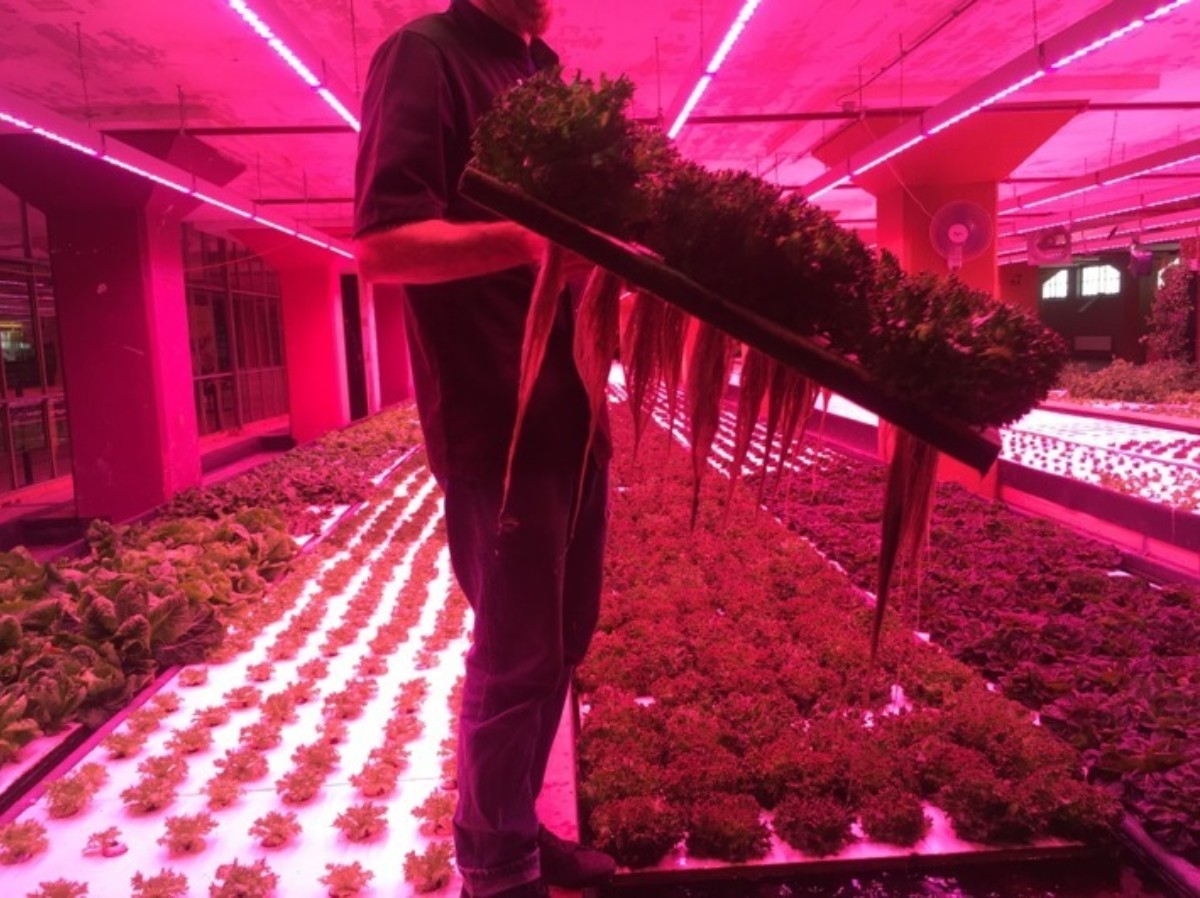 In May I was lucky to be a delegate on an "Innovation/Inspiration Safari" to the Netherlands as part of the Rural Youth Project, an initiative that started as a research project to better understand and support rural youth. The trip was sponsored by Scottish Enterprise and the group was made up of Rural Leaders from SE's learning programme, as well as Rural Youth Leaders.
We had a packed itinerary that took us around the districts of Nijmegen, Utrecht, 's-Hertogenbosch, Rotterdam and Eindhoven with the theme being "bridging the rural-urban divide". We got to see an amazing variety of businesses and met so much great people, but I'm going to narrow it down to what I thought was the 5 most innovative/inspiring agricultural projects we visited.
Aquaponics
In an old Philips building in Eindhoven on the 5thfloor we got to visit an urban aquaponics farm, a project that combines aquaculture and hydroponics (cultivating plants in water) in a circular system. The aquaponic system grows food, mostly lettuce, by breaking down the waste from the fish in the system. This creates a closed nitrogen loop and uses 90% less water than soil gardening, and no pesticides or fertilisers are needed. It sells its produce to local restaurants in the area. As a part of the business model, they have partnered with a caretaking agency in Eindhoven, and employ young people with autism. Together, the companies aid in the development of their independence and career development.
Duurzame Kost - https://duurzamekost.nl/
2. Community farm
Community Supported Agriculture at Herenboeren where 200 local households co-own 20 ha of land and employ a local farmer to supply vegetables, eggs, meat and fruit. Each adult household member pays €10 per week, with vegetarian members paying less, and the produce they receive meets 60% of their dietary requirements. Together they decide what to eat and what the farm will produce, according to soil type and the farmer's expertise. 95% of the households come to the farm to pick up their food, which also creates a community around the farm and connects them to the food production.
Herenboeren - https://www.herenboeren.nl/
3. Care farm
De Hoge Born Care Farm is an organic fruit and vegetable nursery that operates with the local council to put 80 people at a time through a treatment programme, usually for mental health issues or addiction, while still operating as a profitable commercial farm. The representative we met with spoke about the importance of giving patients a sense of purpose and transferrable skills that can be used once the six-week live-in is complete, and that care doesn't necessarily need to take place in a hospital.
De Hoge Born – https://dehogeborn.nl/
4. Pig farm
PigMe is an innovative young pig producer with no land who collaborates with woodland owners who need undergrowth cleared or land ploughed. The pigs are farmed and lazed in fields, forests and meadows on a rotational basis in over 10 locations close to the consumers. The pigs are fed high-quality food waste from the urban area and 90% of sales are directly to chefs, with herd size only increasing if new customers have been found. As the pigs have shown to be good for woodland management and ploughing farm land, they are also looking into if the pig producer could get free rent or get paid for this service in the future.
Pig Me - https://www.buitengewonevarken... - https://twitter.com/pigsofthefuture
5. Floating farm
A floating dairy farm in Rotterdam's harbour had just opened when we visited. The floating building had two floors, with the cows being fed from food waste from the city. Everything is done aboard; the feeding, milking, the processing and bottling, and the manure handling. Floating solar panels power the farm and with a bridge connecting the building with a plot of land in the harbour, the idea is that the cows will be able to walk over to graze as well. With 26% of the Netherlands landmass underwater, the innovators are hoping to create a new type of urban farming, and have gained a lot of interest from countries facing much of their land being covered by water as a consequence of climate change.
It should be said that a few of these projects, like the aquaponics farm and the floating farm, are still not commercially viable but rather proof of concept. But it was great to see these five very different approaches to food production, and the innovation and inspiration behind them.
Something that almost everyone we met in the Netherlands were talking about was the need to change our food systems, based on the assumption that "no one wants a race to the bottom" instead of assuming that "everyone wants a race to the bottom". It's a very small country where the price of land is high, so sustainable land and cooperation with your neighbours is key. Overall we saw a spirit of cooperation rather than competition, enabled by businesses finding their growth opportunities away from the current mainstream and within an expanding "sea of niches".
I really enjoyed seeing so many circular economy ideas put in practice across different scales. From trying to keep food and food waste in a closed loop in an urban area, to keeping nitrogen in a closed loop on the fifth floor, many businesses had identified areas where they could get a start on becoming circular.
The journey also raised some really important questions about who can work in agriculture, and if food production might be a social business. Most companies that we visited incorporated social impact and community engagement in some way, regarded as part of business success and a way to bridge the gap between consumers and producers. They saw agriculture as a way of creating a social good as well, like fostering a community, creating a learning opportunity or providing a care service. They also highlighted the need to broaden our perception about who can work with food production, to create new and more inclusive employment opportunities for people with learning disabilities, young people, urban farmers, and people co-owning land.
We also got the opportunity to meet students from the HAS university, that has a course for developing innovation and new businesses within agriculture. From a youth perspective it was really inspiring to meet these students and to see the support their ideas received from the university and the industry. As a youth representative I also really appreciated the support within the Scottish delegation, where many of the Rural Leaders took on mentorship roles for both professional and personal growth, but also were keen to listen to the youth perspective.
I hope this gives a flavour of what the learning journey looked like, and given some interesting examples of how people, nature and food production can be connected in both urban and rural environments. I also hope that I can continue to work with the Rural Youth Project and the Rural Leaders, as they gather a lot of people with a passion to bridge the urban/rural divide who want to change our food systems for the better.