2019 Ideas Festival Delegate Actions
22 January 2020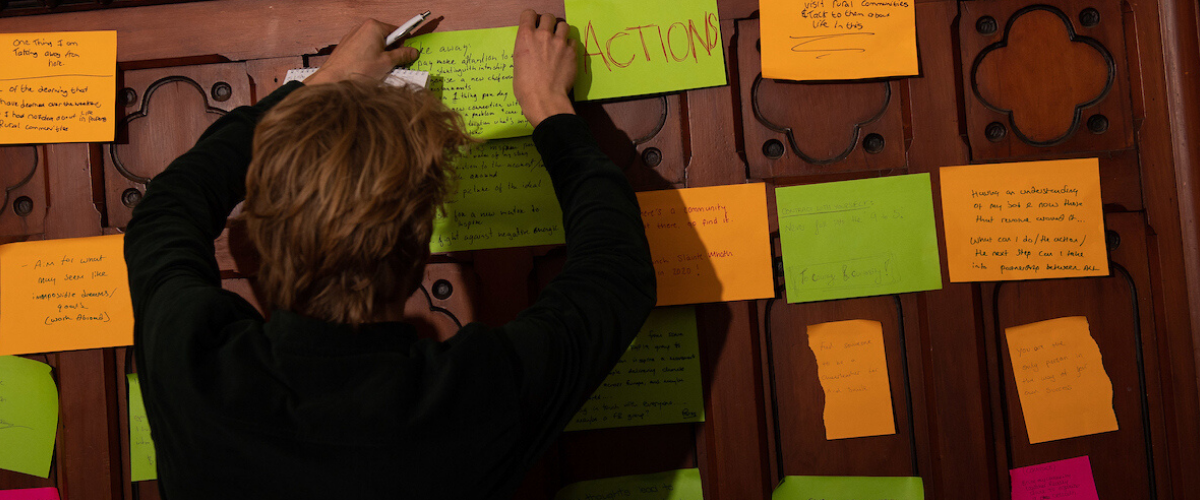 At the conclusion of the 2019 Rural Youth Project Ideas Festival, delegates were asked to note down their actions as a direct result of the event on post-it notes. Their actions are noted below:
"I want to build stronger relationships with RYP, push myself past my personal 'limitations' & challenge myself."
"My contract to myself is to create a new habit and that will benefit me and stick to it."
"Help family business with social media, volunteer more and join a local young farmers club."
"1) Pay more attention to my food chain starting with internship at the butchers 2) Organise a new chef event for my restaurants 3) Focus on 1 thing per day 4) Make a new connection with pigs and people with a problem e.g 'care farming' 5) Build a new location that includes my 'Future Picture' 6) Sell myself as an inspiring person and see value in my story 7) Pay attention to the nearest/important people around 8) Make a picture of the ideal future 9) Ask for a new mentor to inspire me 10) Fight against negative energy
"I've got the motivation to restart the project I began when I was in school, but also been given new tools that I can use to help further the project. It definitely does resonate with me the statement 'if not now, when?'"
"Weekend provided 'get up and go' attitude and motivated me to keep Rural Loop Magazine going and get everyone's stories, who I met this weekend, heard. Also want to take finished magazines into P6/7's in local primary schools and my secondary school to do a presentation. Want to show young people who are interested in writing/telling stories/journalism that food/farming/ag sector is an industry to consider."
"Going forward I will use the contacts I have made this weekend to bring ideas into reality & just do it!"
"Taking steps to start a European Ag Youths for Climate Organisation and stay connected to everyone."
"One thing I'm going to do is visit rural communities and talk to them about life in this."
"Find someone to be a cheerleader for and smile."
"Work on my confidence, push myself out of more comfort zones, grow my fitness Instagram."
"Bring my community together, really want to organise a ceilidh."
"Put time and energy into putting my idea - a network for young foresters in Scotland/UK - into action by starting research and chatting with people, work out a way forward and get going with it. Activities will include food and music to make local community more cohesive and supportive."
"I'd like to develop an implementable idea of how to bring extra educational opportunities to rural youth, especially those facing disadvantage e.g low income, disability, mental health."
"Be really honest about what I really want to do, what my next steps could be, who I can ask for help. Believe in it and believe in myself. Stick to it, be open to the unexpected and never doubt anything I really want can happen."
"Charity mental health drive in a really shit cheap car. Names from sponsors via CrowdFunder to decorate."
"Having an understanding of my job and now those that revolve around it. What can I do/action/ the next step I can take into partnership between ALL."
"Contract with yourself: Never fall into the '9 to 5' - to courage and curiosity!"
"Launch Sl`ainte Mhath in 2020!"